The earliest and most basic kantha stitch is a simple running stitch used to sew old pieces of cloth together to make clothes and blankets again. Nakshi kantha is decorative embroidery with a visual language of local and cultural designs and patterns.
Ode to Creation
What once started with a simple running stitch evolved into a range of embroidery stitches that tell epic or personal stories, put the beauty of nature on canvas, or create complex geometric patterns as an ode to creation.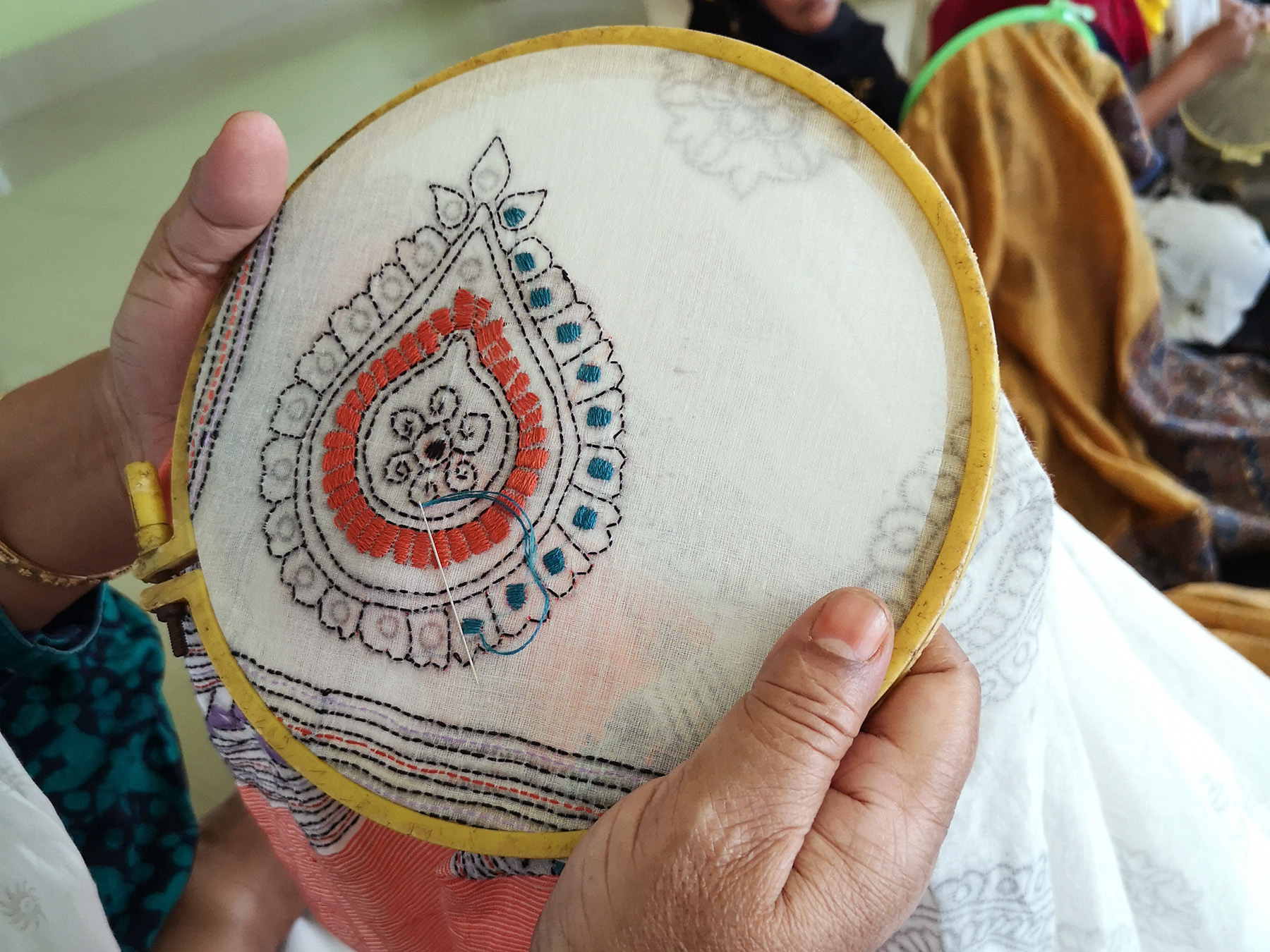 Our nakshi kantha scarves are made in Birbhum district in the Indian state of West Bengal. This is where Takdira Beghum lives and works, a 60-year-old very talented designer who provides embroidery for about 100 women from the region.
Nakshi kantha embroidery idiom
Women across the region make nakshi kantha embroidery, Hindu and Muslim, but the patterns can differ greatly. Each place has its own embroidery idiom closely related to the religion, traditions and local customs.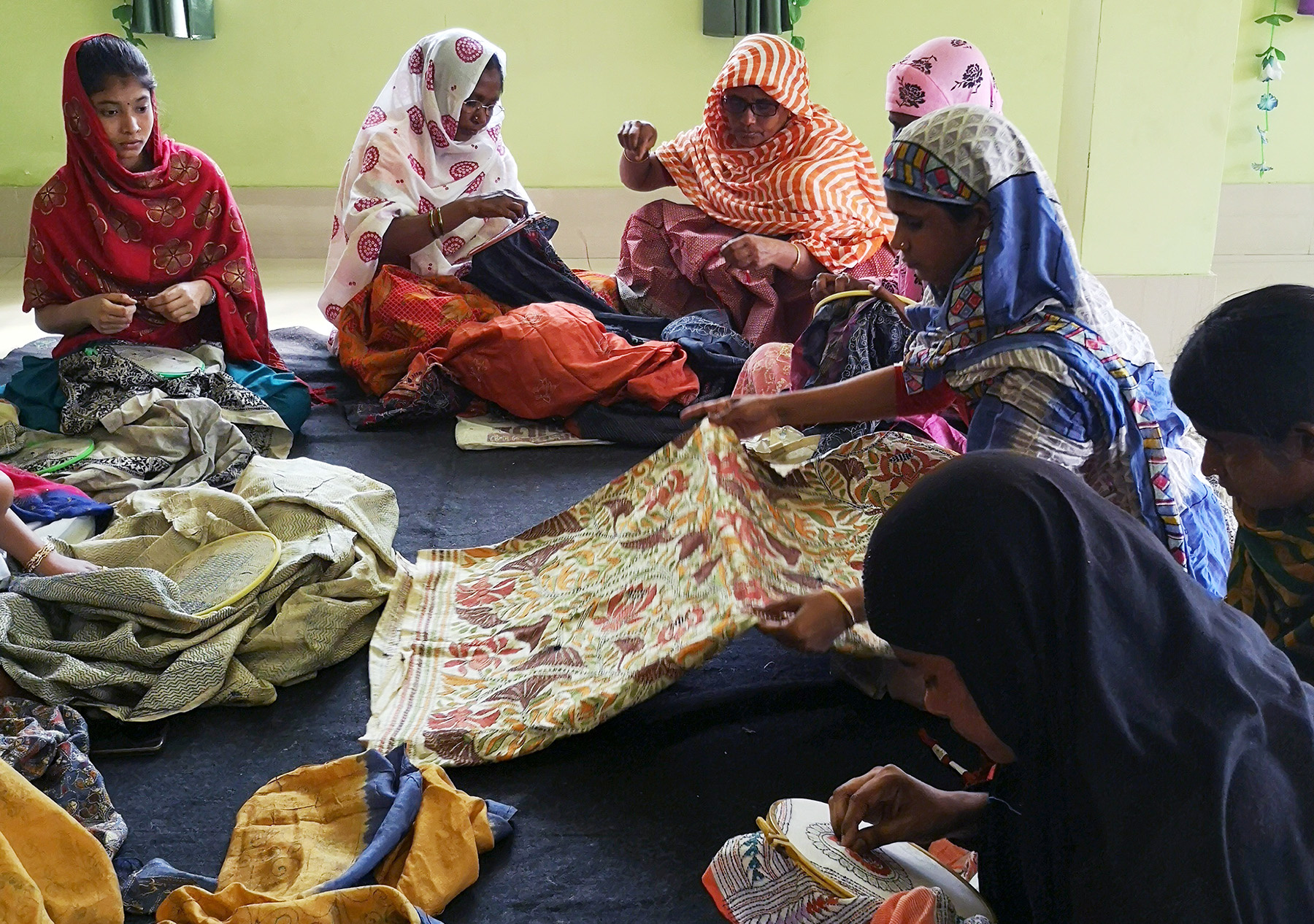 High level embroidery distinguished
The work of Takdira and her group of women is head and shoulders above the average nakshi kantha work available in the region. The bar is set very high, both in terms of the designs, the difficulty of the embroidery, and the choice of fabric. It is not for nothing that she is an acclaimed designer who has received several national awards. The most important one, the Shilp Guru Award in 2009, is on her business card. It is an award for innovation in traditional craftsmanship and recognition for the highest level of aesthetics, quality and skill.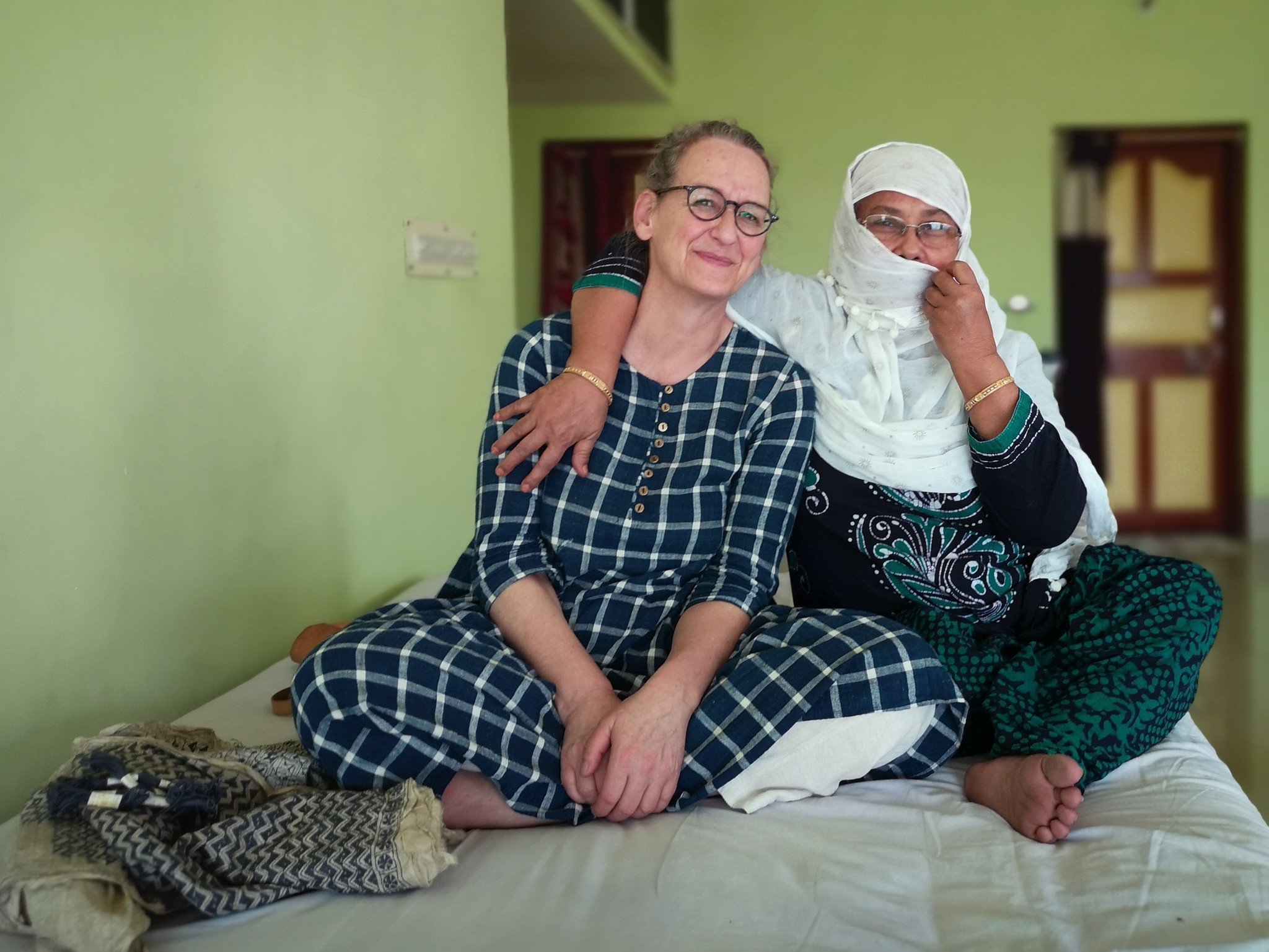 (On the photo: Sandra and Takdira)
Takdira is an inconspicuous appearance. She lives and works in a quiet street in a medium-sized city. Her home accommodates women who want to get together to embroider. There is a large pantry with fabrics and embroidery threads and enough bedrooms for family and guests. Directly opposite the house is a low building where the embroidery designs are transferred to the silk fabrics via transfer paper with tiny holes punched in it. That happens with petroleum. When the embroidery is finished, the scarf is washed and the print disappears.
(Salim, Takdira's son-in-law -in the white shirt- watches how one of Takdira's designs is transferred to the silk).
Destined for the household
Takdira grew up in a small village in the countryside. After her formal schooling, she continued her education for two more years at an art school where she learned all the embroidery stitches and created new designs. Three years later, she married at the age of 19. When she had three daughters she wanted to create something for herself and her children, but what? As a woman in a conservative, patriarchal society, such a thing seemed almost impossible.
Female entrepreneurship
Still, she was a possibility: kantha. A skill shared by millions of women across the region. And so one day Takdira took the plunge and contacted some young women from her village and trained them to improve their embroidery skills. Then she hired them. They embroidered fabrics for the local market, but in a way that had never been seen before.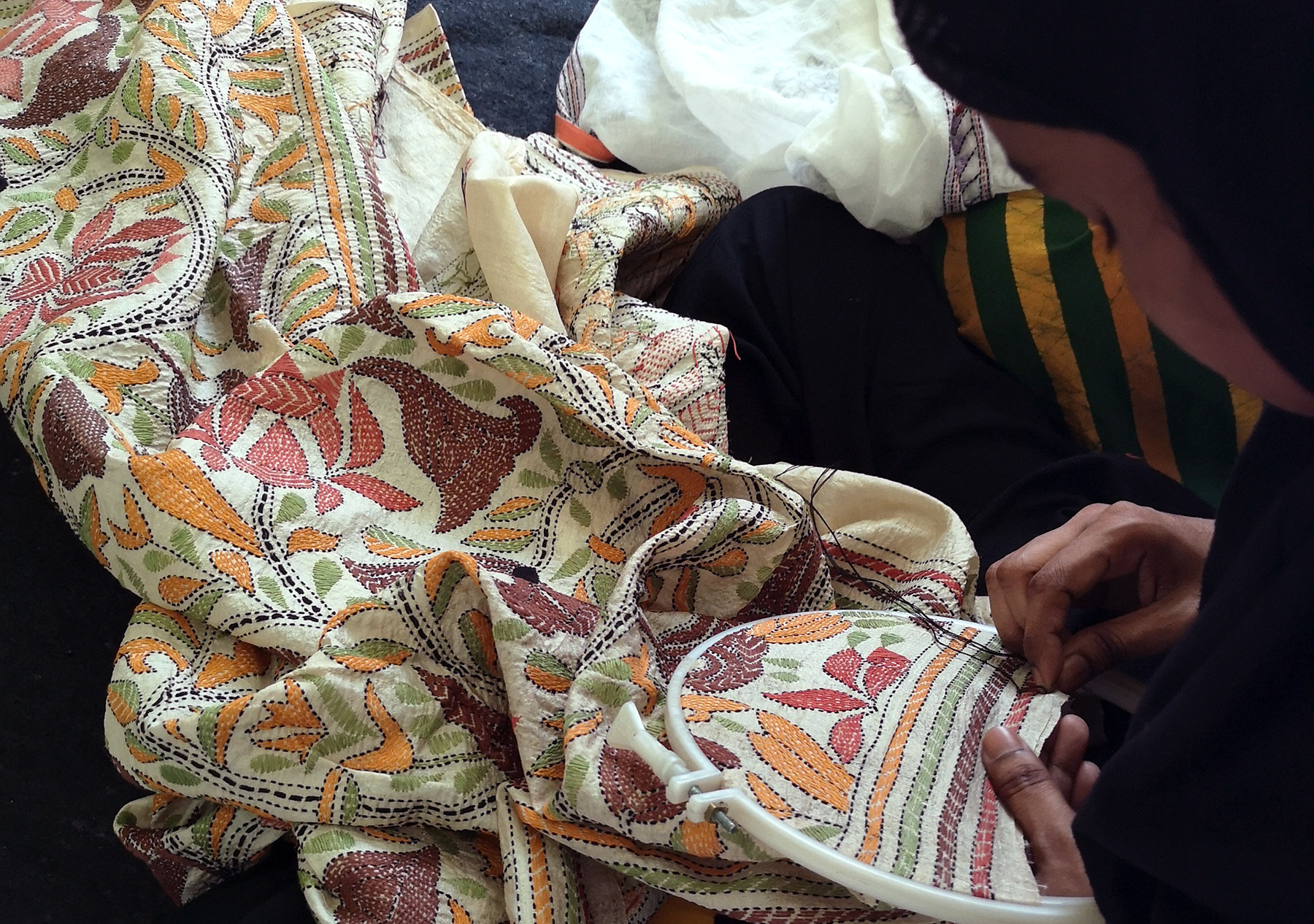 Men's encouragement
The women embroidered elaborate and complex designs, not on cotton or recycled silk, but on exclusive hand-woven Tasar silk. With this they brought unique and exclusive products to the market. Still, it was not easy for Takdira to persuade the young generation to work with her. It was even more difficult to convince their husbands to let the women work. However, Takdira's husband supported her and used his influence in the community to encourage his friends to make their wives work.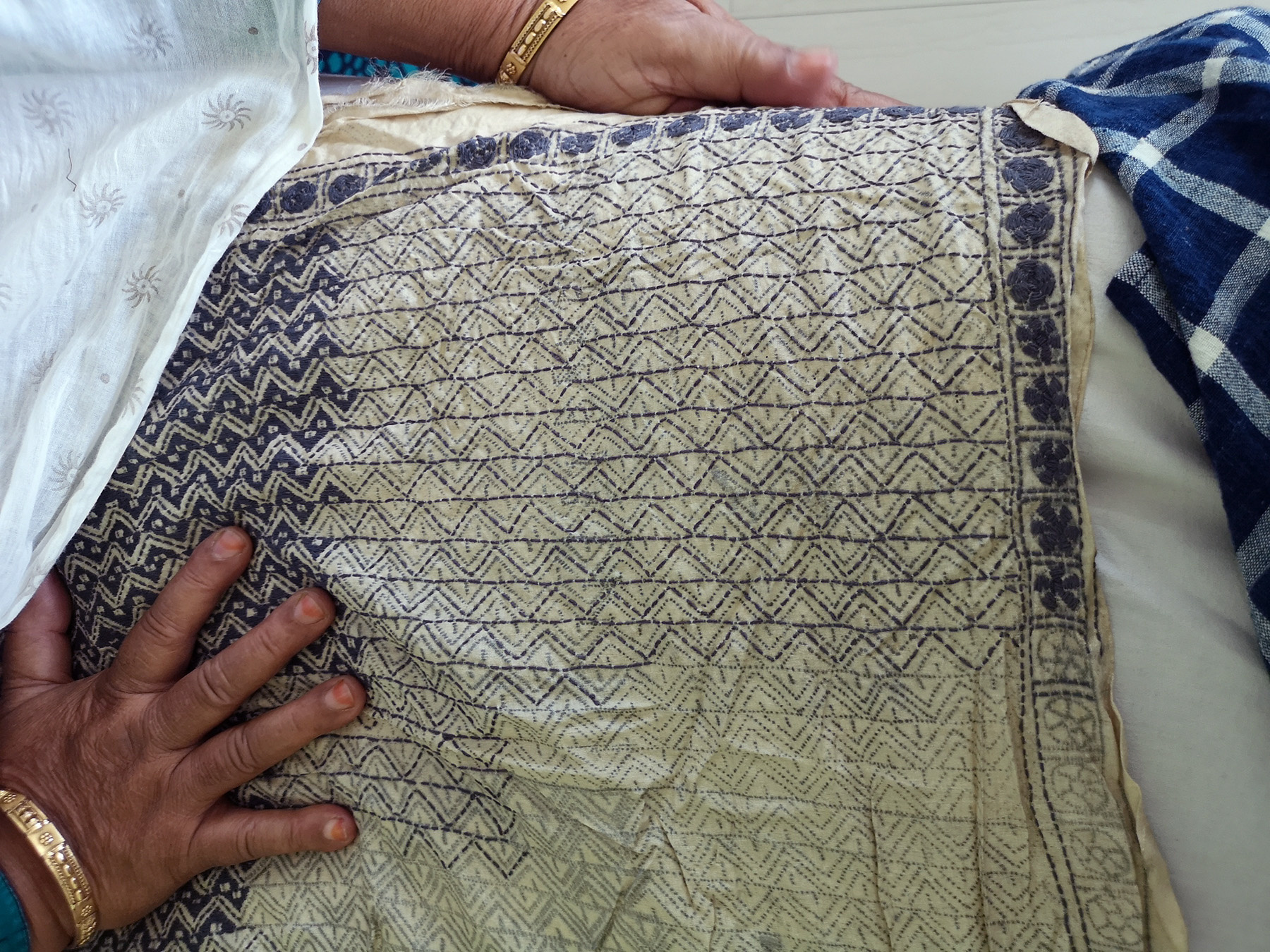 Socially accepted activity
The group now consists of more than 100 women, ranging in age from 18 to 70 years. This form of working and earning an independent income is ideal for them. Kantha embroidery is a local tradition and they can do it at home. It is a socially accepted activity that is not at the expense of caring for children and other household activities.
Family business
Takdira's younger daughter is heavily involved in the embroidery business in Birbhum, and Salim, her eldest daughter's husband, handles the sales. He occasionally shows the scarves at trade fairs and maintains relationships with customers.
Simplicity and hospitality are in the genes of the family. There is no marketing, but anyone who appreciates Takdira's art is greeted with respect and warmth.
Embroidery at home and together
Making a nakshi kantha scarf can take up to 6 months or more depending on its size and complexity. Moreover, the women can take as much time as they need. They take the fabric and thread home to work, and sometimes they get together to embroider in a group.
Guarding heritage
Takdira still makes all the designs herself. They are carefully kept in a large book. When asked if she ever makes commissioned scarves with a supplied design, she resolutely shakes her head. Takdira's art is not a trick that can be used by third parties. What is made here is heritage. And that is guarded in an inconspicuous street by an inconspicuous lady with heart, hand and soul.